Division Leadership
Vacant
Dean of Business & Technology
Office: Bonnell Building, Room B2-22; Phone: 215-751-8413
Arielle Norment, MSHE
Assistant Dean of Business & Technology
BS, Child Development & Family Relations -- Indiana University of Pennsylvania
MS, Higher Education Administration -- Drexel University
Office: Center for Business and Industry, Room C3-1D; 215-496-6078
Email: ANorment@ccp.edu   
Arielle Norment has been serving as the Assistant Dean of the division of Business & Technology since 2019. Prior to joining the CCP community, she has worked in various academic-related administrative positions with her most recent role being an Academic Program Manager at Drexel University. She also has extensive experience in the classroom as an adjunct professor of Psychology and Early Childhood Education.


As a higher education professional, Arielle has a strong background in academic and student affairs in areas such as academic advising, administrative operations, academic & quality improvement including assessment, curriculum development, co-curricular programming, first-year experience programming, and student services. She is also a published author, PA ACE Women's Network Board Member, and a member of the NASPA Community College Institute Planning Committee. As a hobby, Arielle is an avid traveler and has been to 12 countries and counting!
Division Dean's Office Staff
Vacant 
Assistant to the Dean
Office: Bonnell Building, Room B2-22; 215-751-8413
Email: jdriscoll@ccp.edu

Paula Carlin
Office Administrative Associate
Office: Center for Business & Industry, Room C3-1; 215-496-6134
Email:

Sylvia Gaines-Henderson
Office Administrative Assistant
Office: Bonnell Building, Room B2-22; 215-751-8414
Email: SGaines@ccp.edu  

Phillip Gatling Jr.
Student Success Navigator
Office: Remote
Email: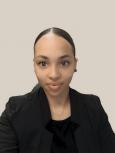 Shereen Zanjani 
CTE Student Success Navigator
Office: Bonnell Building, Room B2-22B; 215-751-8735
Email:  '; // -->
Department Head Contact Information 
RUQAYYAH ARCHIE – BUSINESS ADMINISTRATION 

rarchie@ccp.edu | 215-751-8056 
Office location: Bonnell Building, Room B2-22D
CHUCK HERBERT – COMPUTER TECHNOLOGIES 

cherbert@ccp.edu | 215-496-6140 
Office location: Center for Business and Industry, Room C3-1B
ARIELLE NORMENT – INTERIM BUSINESS LEADERSHIP, FASHION, & HOSPITALITY 


'; // --> | 215-751-8413
Office location:  Bonnell Building, Room B2-22
RICH SAXTON – TRANSPORTATION TECHNOLOGIES
rsaxton@ccp.edu | 215-516-3675
Office location: Career & Advanced Technology Center, Room C-258