The Duplicating Center is located on the ground floor of the Mint Building (MG-14). The Center provides copying services for faculty and staff using high-speed copiers and off-set presses (for large quantity and color printing).
Duplicating Services
Offset Printing
Duplicating
Photocopying
Scanning
Collating
Stapling, Scoring, Folding
Tape Binding
Saddle Stitching
Laminating
Pamphlets and brochures
Posters
Photo Books
Business Cards
Letterhead
Forms
Duplicating Request Form
(Must be logged into MyCCP to access this form)
Login into MyCCP, and navigate to the Employee Tab. In the right block labeled "Administrative Forms and Links" find the Duplicating Request Form Link.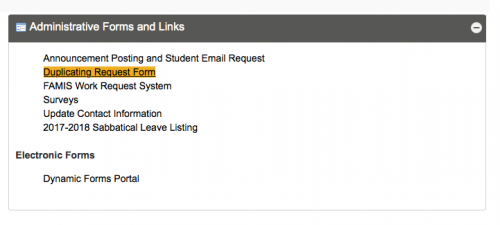 Policies
Most duplicating requests will be processed within two business days. All work requests must be submitted with a due date — "ASAP" is not acceptable, since work is scheduled by due date. Part-time faculty who teach on a once-a-week schedule should submit requests one week in advance.
Lead Times
Although there are times when work may be completed more quickly, general requests (copy service 1-3 pages original, 1-500 copies) should be processed by the following turnaround times if the request and materials are submitted by 4 p.m.:
| | |
| --- | --- |
| Material submitted by 4 p.m. | Request completed on |
| Monday | Wednesday |
| Tuesday | Thursday |
| Wednesday | Friday |
| Thursday | Tuesday |
| Friday | Tuesday |
| Saturday (copier service only) | Saturday (window work only) |
Window Service
Window service is available for certain jobs.
Copying requests: Up to 100 copies of a single sheet or multiple pages totaling 100 copies can be completed while the customer waits at the service window. Printing requests are not available via Window Service.
Duplicating Will Not:
Release examinations to student workers.
Process work without a properly executed Duplicating Request Form.
Remove work in progress for an emergency request. The emergency/rush will be the next up.
Violate copyright laws.
Keep originals on file for later use. This is the responsibility of the requestor.
Duplicate books on sale in the Bookstore. Duplication can occur only if the book is temporarily out of stock and written permission is issued to the Bookstore Manager and forwarded to Duplicating. Then, only one chapter may be copied, anticipating immediate delivery of supply.
Hours
Fall/Spring Semester Hours
Monday – Friday: 7:30 a.m. – 5 p.m.
Summer Session
Monday – Thursday: 7:30 a.m. – 5 p.m.
Summer Semester Hours
Monday – Thursday: 7:30 a.m. – 5 p.m.
Hours are subject to change. Operations are closed for all normal College holidays.
Staff
Theodore (Todge) Sutkowski
Manager of Business Services
Room: MG-14
Phone: 215-751-8256
Email: tsutkowski@ccp.edu

Allen Farrington
Room: MG-14
Phone: 215-751-8108