Kaltura Video Management System
What is Kaltura?
Kaltura is a cloud-based video management system for storing, publishing, and streaming videos, video collections, and other media. Kaltura integrates with Canvas, allowing faculty, staff, and students to create, upload, and share multimedia content.
How Can I Use Kaltura? (Faculty and Staff)
With Kaltura, you can create new content, record your screen or a presentation, and upload recorded videos from Zoom. Some additional ideas for using Kaltura is listed below:
Create video assignments and interactive video quiz
Introduce yourself and course to the students
Initiate discussions 
Demonstrate course concepts 
Student video submission assignments
How to Access My Kaltura Media
You can access My Kaltura Media in Canvas by selecting the My Kaltura Media tab in your course navigation. Click here to watch a brief video overview of the Kaltura and Canvas (LMS) integration.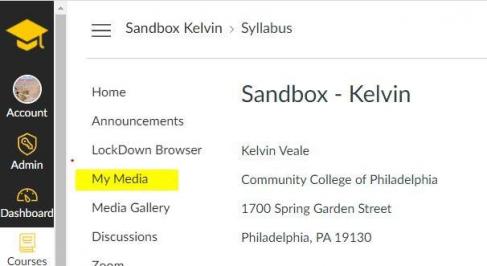 Kaltura Functions and Features 
Below you will find several videos that will explain how to use the multiple functions and features of Kaltura. To discover more about the Kaltura and Canvas integration click here.
"My Media" is the media repository of a single user. Every user has a personal, searchable repository for viewing and managing private media content. 
You can learn how to upload media from your computer, upload a YouTube video and upload a video created with Kaltura Capture.
This video demonstrates how to make edits to your content. 
How to Embed Kaltura Media in your Canvas Course
The Canvas rich content editor allows you to embed Kaltura media in your course. 
This video demonstrates how to create a Video Quiz.
How to sync the Video Quiz results with the Canvas Gradebook
This video describes how to create an assignment that uses Kaltura's Video Quiz that  integrates with the Canvas Grade Book.
Kaltura Classroom Application (Lecture Capture)
Kaltura's Lecture Capture Software makes it possible to create engaging, interactive videos and automatically publish them to your Canvas courses.
Click here to view a brief video on how to get started with Kaltura Classroom.