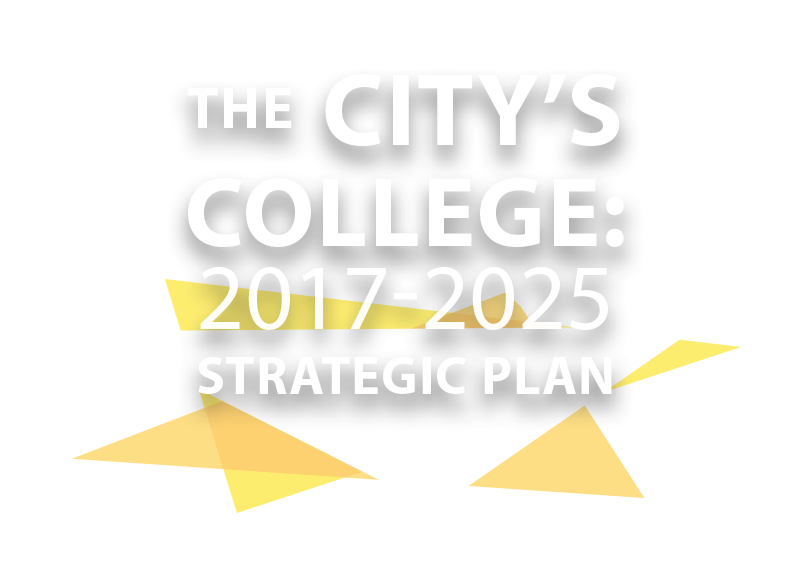 Impact 2025: An Uncompromising Focus on Student Success 
Community College of Philadelphia, the City's college, is ideally positioned to respond to the rapidly changing landscape for higher education. Over the past 50 years, the College has lived up to its mission by providing educational access for over 700,000 Philadelphians, setting families, businesses and neighborhoods on a path to shared prosperity and opportunity.
The 2017-2025 Strategic Plan affirms the College's long-standing commitment to quality, access, affordability and upward mobility. The plan firmly plants student success at the center of all efforts, establishing the means for each student to achieve their goals. This focus extends beyond the classroom, encompassing connections with the community, the educational pathways of students before and after their time with us, the regional economy and workforce, and the overall environment and stability of the College. 
This plan builds from the energy surrounding the College under the leadership of President Generals. Key initiatives include the implementation of Guided Pathways across all academic programs, data-driven interventions and services that move larger numbers of students toward degree completion, and an increased focus on career connections. Additionally, the College is positioning itself as a hub for social and economic innovation through workforce development and civic engagement, increasing its visibility and centrality to the progress of Philadelphia. 
The overall success of this eight-year strategic plan will be measured by achieving three broad goals by 2025: 
Goal 1: Increase credit and non-credit enrollment by 20%. 
Goal 2: Double the graduation rate. 
Goal 3: Double the number of opportunities for students to enroll in career programs resulting in the attainment of marketable skills leading to placement in the local and regional economy. 
The work toward these goals is organized around several key areas of focus, or 'pillars', which provide a framework for action. Student success underlies each pillar and informs the strategic directions in each. The pillars are: 
The Student Experience 
Workforce Development, Readiness and Economic Innovation 
External and Internal Community Relations 
World-Class Facilities 
Fiscal Stability and Sustainability
Diversity, Equity, and Inclusion 

The Student Experience 
As the keystone of our comprehensive strategy to improve student success and completion, the College will continue a full-scale implementation of the Guided Pathways model. Motivated by data clearly showing achievement gaps in student subgroups, the College is addressing the disparities in student success with promising practices tailored to support students' needs, including those who begin college with foundational education needs; those in need of clarification and support in identifying an appropriate career path, and those planning to transfer to a four-year institution. 
The student experience will be redesigned to be highly structured, beginning with an intake process that clarifies students' goals and career directions. All students, including those who need to strengthen foundational skills, will be provided with clear academic program roadmaps as well as intentional advising coupled with progress tracking and individually-designed support. Through first year experience courses, students will also develop financial and career roadmaps for their time at the College and beyond. 
Guided Pathways implementation will promote positive change throughout the College. Policies and procedures will be redesigned to be more meaningful to students and employees alike. Academic programs and individual courses will be continually assessed to ensure excellence in meeting program and student learning outcomes. Communication modes, including mobile and web-based, will be enhanced to send clear and timely messages in order to keep students on the path to their goals. Faculty and staff will be fully supported as they create learning opportunities for students inside and outside of the classroom. 
Strategic Directions 
Fully implement the Guided Pathways model to clarify effective paths from entry to credentials to include: increased job and transfer opportunities; improved developmental education outcomes, and a redesigned intake and on-boarding process. 
Ensure students are challenged by intellectually rigorous teaching and learning techniques inside and outside the classroom leading to high academic standards through a culture focused on assessment of student learning outcomes and continuous professional development of faculty. 
Increase academic and student development opportunities by integrating student life, community service, co-curricular activities, internships, experiential learning opportunities, civic engagement and service learning into programs of study. 

Workforce Development, Readiness, and Economic Innovation 
Philadelphia's existing and potential new employers commonly cite a robust educated workforce as the dominant factor in their plans for where to locate, invest, and grow. Workforce is a key determinant in whether businesses will prosper, but in Philadelphia there is a large gap between current workforce skills and the jobs available. There is a particular deficiency in computer, math and science skills. 
The College will be at the forefront of addressing both the new growth opportunities for the region and the gaps in educational and skill attainment for all Philadelphians. Investments in post-secondary training, certificate and degree attainment yield clear economic benefit to individuals, their families, the City, region and Commonwealth. As Philadelphia's population changes and grows, the College will adjust and offer programs that are relevant and necessary to the interests and needs of individuals, and responsive to new economic growth sectors. 
The College is a crucial workforce development asset in Philadelphia's economy and will serve as a driver of economic innovation and career readiness in the region. With locations throughout the city and affordable tuition, the College is well positioned to increase the workforce skill and educational attainment of students. To respond to a shifting economy, the College will develop innovative new programs to meet regional workforce needs. 
Strategic Directions 
Promote the College as a leading provider of workforce and economic development solutions and corporate training in the region by delivering high quality training and instruction that enables clients to grow, succeed and stay ahead of industry needs. 
Develop entrepreneurial programs around industry clusters reflective of the region's needs, employer needs and College priorities. 
Connect students with the world of work in ways that allow them to direct their learning and future employment to fields that fuel their personal ambitions and the region's economic opportunities. 

External and Internal Community Relations 
As the City's college, Community College of Philadelphia will position itself as a vital resource that impacts all of Philadelphia and beyond. The College's inclusive learning community is an important asset where people from all walks of life can grow together and learn how to learn from each other. To this end, the wide range of programs, services, departments, faculty, staff and administrators must be seen and aligned as an interconnected and interdependent whole. 
In order to reach the College's varied constituencies, communications will be clear, transparent, and sensitive to the diverse landscape of stakeholders. Effective, respectful communications both internally and externally foster pride in the College, clarify priority strategic goals, and develop a collaborative culture among employees. 
Additionally, a broad network of effective external and internal relationships will support student success and integrate the continual feedback from stakeholders. Engaging key stakeholders in mutually beneficial relationships and conversations is critical to securing the commitments the College needs to carry out priority elements in the strategic plan. 
Increased pride within and around the College is imperative because Internal and External Community Relations determine how our work is viewed—by ourselves, others, and, most importantly, our students. Consequently, in order to fulfill its mission, Community College of Philadelphia must foster a unified identity that clearly and effectively communicates our commitment and dedication to student success – and to Philadelphia, the region and the world. 
Strategic Directions 
Develop and communicate an enhanced College brand identity – CCP Pride – that all members of the College community, serving as College ambassadors, can clearly articulate and that focuses on achievement of student goals and respect and collaboration among faculty, staff and administrators. 
Strengthen the relationship between the College and the City's pre-K to 16 communities to improve access to education and completion rates throughout the educational pipeline by creating responsive programs and partnerships. 
Expand partnerships with community organizations integrating the resources of the City into courses and programs that bolster students' abilities to master the College's core competencies. 

World-Class Facilities 
The College is committed to providing world-class facilities that reflect excellence and equity. These aspects are fundamental to addressing the needs of students and establishing the College as a high quality community asset. 
Excellence and equity will be evident throughout the main campus, regional centers and community sites. The College community will find clean, fresh and updated learning environments, indoors and outdoors. Pride in workmanship will be our signature. 
Infrastructure will be used effectively and managed through efficient systems. Upon entering any facility, it will be readily apparent that knowledgeable, responsive staff are committed to managing the buildings and environment with quality and care. 
The College community values environmental stewardship, health and wellness, and accessibility. These values will be reflected in the facilities, building our credibility through consistent experiences in each of those areas. 
Striving for World-Class Facilities in the attitude and character of all of our buildings and environments will allow every stakeholder to experience pride of ownership and fully support student success. 
Strategic Directions 
Create facilities that optimize learning, leverage technology and enhance the student experience beyond the classroom, including providing adequate space for student engagement, student life, student clubs and activities. 
Develop facilities that inspire pride of ownership, build community among stakeholders, support a commitment to health & wellness, and exceed standards for sustainability and environmental stewardship. 
Provide equitable facilities at all locations that are inviting, accessible and safe. 

Fiscal Stability and Sustainability 
Community College of Philadelphia will build a sustainable financial model that provides excellent resources for students, respectable compensation for employees, and world-class facilities. Budgets will be developed through a transparent and collaborative process that directs resources to strategic directions and priorities. Operations will be analyzed for efficiency, seeking opportunities to contain or share costs, and embracing new technologies. 
A focus on student success will contribute to the College's financial stability, enabling the College to continue providing high quality programs and services. The College has quality programs, faculty and staff. Targeted marketing that highlights excellent programs can increase enrollment and heighten awareness of our strengths. This heightened awareness will increase the opportunity for potential public-private partnerships, philanthropic investments and other means of support. 
As the largest public institution of higher learning in Philadelphia and an important asset for moving people out of poverty, Community College of Philadelphia must continue to advocate for support of education as a public good. The College will maintain and strengthen partnerships with policy makers and other relevant stakeholders. The College's own active and engaged faculty and staff can also play an important role in leveraging the College's human resources and facilities in entrepreneurial ways that provide alternative revenue sources to the College. 
Strategic Directions 
Build a sustainable financial model that utilizes a transparent and collaborative budgeting process where resources are directed to strategic priorities. 
Ensure all areas of the College are operating efficiently and seek opportunities to contain costs through shared services and new technologies. 
Improve student success to ensure that the College is able to support the region and to continue to ensure the public good created by the College's education. 
Develop an entrepreneurial approach to partnering with local businesses, organizations, philanthropies, and community groups in ways that help sustain the College. 
Diversity, Equity, and Inclusion 
Situated in the heart of the racially diverse and culturally vibrant city of Philadelphia, the College is comprised of a diverse group of students, faculty, staff, and administrators. As such, the College is committed to ensuring that diversity, equity and inclusion (DEI) is embedded in all aspects of college life, including admissions, the academic experience, employee recruitment and retention, and in its relationships with entities doing business with the College. Diversity is the presence of individuals from different backgrounds (ages, people with various abilities and disabilities, ethnicities, genders, gender identities, national origins, political affiliations, races, religions, sexual orientations, socio-economic statues, and veterans) and experiences within the College community. Equity is the process of ensuring that processes and programs are impartial and fair. To ensure equitable outcomes, the College will work towards ensuring equal opportunities and access for all persons in the College. Inclusion is the practice of ensuring that all who are part of the College community, including those from diverse groups and intersectional identities, feel supported, valued, respected and welcome. The College understands that its DEI commitment is honored when students and employees witness that the College exhibits this pledge not just through its words, but also its actions.  
The College will undertake the continuous critical analysis of existing structures in all facets of the College, identify those that are inequitable on their face or in their application, and do the hard work necessary to dismantle those inequitable structures. The work of DEI is a continuum, and the College commits to an annual review and assessment through an equity lens of policies and procedures that affect student outcomes, employee hiring and retention, vendor proposals and agreements, and all other areas that may benefit.  
Ultimately, this intentional focus will position the College to become an innovative leader in the city and nation in the area of DEI work by creating a safe space campus that values, promotes, and amplifies the various voices and experiences of those from traditionally underrepresented or marginalized groups in its curricula, programming, administrative policies, hiring practices, daily interactions, and activities. These concerted efforts will lead to increased student engagement, and improved retention and academic outcomes.
Strategic Directions 
Require all divisions and departments across the College community to create Diversity Equity and Inclusion Plans that specifically address where diversity, equity and inclusion is lacking and include strategies on how each will increase, retain and support underrepresented employee groups in their departments, along with plans on how these strategies will be continually reviewed and assessed for effectiveness. 
Become an Anti-Racist College and fully implement anti-racist training for all administrators, staff and faculty.  
Implement College policies that promote equitable outcomes in the classroom and all other areas and aspects of the college experience with the goal of increasing equitable graduation and pass rates for all students. 
Encourage and facilitate the use of diverse, accessible and inclusive course materials
Increase participation of minority, disabled, or women-owned suppliers to fulfill College's procurement needs. 
Continue to develop and implement a comprehensive system of accountability and assessment around diversity, equity, and inclusion initiatives, practices and policies.