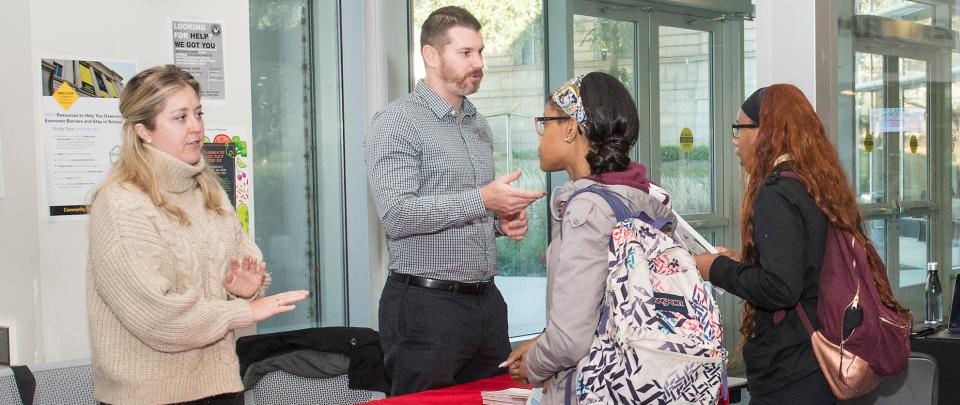 Transfer Agreements are agreements between Community College of Philadelphia and four-year colleges that specify how and when you can transfer your associate degree. Many of these four-year colleges are local or regional.
To participate in these agreements, you must earn an appropriate associate degree before transfer. These agreements are not exclusive of one another. If you transfer to a school with more than one type of agreement, the agreements can complement one another.
Types of Transfer Agreements
Community College of Philadelphia has three types of transfer agreements: dual admissions, core-to-core and program-to-program.
Dual Admissions
Developed with area colleges and universities, dual admissions transfer partnerships are designed to help you seamlessly transfer to these colleges with junior standing after completing an associate degree here.
Search our Dual Admissions Agreements
Core-to-Core
With these agreements, the approved associate degree programs are accepted because the general education requirements meet the core requirements of the transfer college's curriculum. If you earn an appropriate associate degree, usually an Associate in Arts or an Associate in Science, the core requirements of the transfer college are satisfied except for the core courses required by the intended major (and in some cases the requirements that reflect the specific values of the transfer college, for example, religion or foreign language courses). The College has core-to-core agreements with the following:
Arcadia University
Cabrini University
Chestnut Hill College
Holy Family (Community Bridge)
Kutztown University
La Salle University
Rosemont College 

(Gen Ed-to-Gen Ed)

Rutgers University - Camden

Temple University (Gen Ed-to-Gen Ed)
West Chester University offers students a similar benefit that they call Academic Passport.
Program-to-Program
These are agreements in which an entire curriculum or program of study is accepted, so graduates of these specific associate degree programs transfer with advanced standing in a specific bachelor's degree program at the transfer college. For information on specific agreements, use the table below to locate academic programs and colleges of interest.
Visit www.pacollegetransfer.net to explore transfer opportunities with institutions that participate in the Statewide Transfer System, and to view the 30-credit course framework Community College of Philadelphia recommended to be integrated into students' degree programs during their time here.
The Academic Passport, a policy of the Pennsylvania State System of Higher Education (PASSHE), guarantees admission to any of the 14 PASSHE universities to a student with an earned AA or AS degree from a Pennsylvania public community college. A university can stipulate that the associate degree contain at least 30 credits of liberal arts courses. The Academic Passport does not guarantee admission to specific majors.
Approved Academic Degree Programs