To use the Web Registration system effectively, you should use one of the following College-supported browsers:
Windows: Firefox Mozilla 19.0 or higher and Internet Explorer 8.x or higher
Mac OS 10.3 or higher: Firefox Mozilla 19.0 and higher or Safari
Search for Courses Using Course Finder
Step 1:
Use Course Finder to search for available courses.
Step 2:
Following the prompts, search for the course(s) that you need. If you're not sure which courses you need, you may want to meet with an Academic Advisor for help.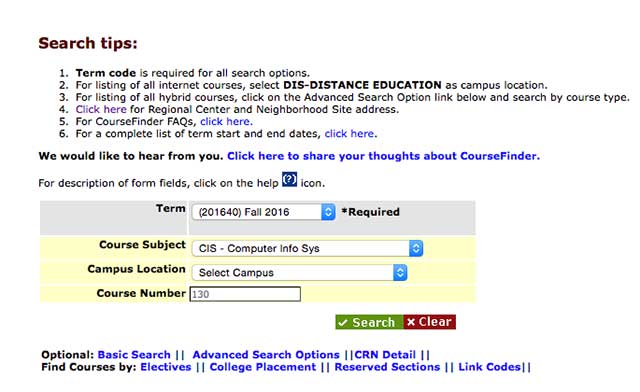 Step 3:
The Class Schedule Results page will display all the sections for the selected subject and/or course number.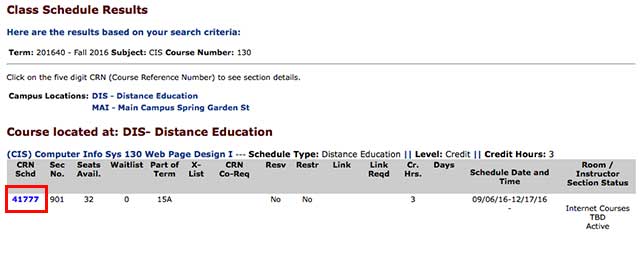 Step 4:
Find the course section that has available seats. Make sure to write the Course Reference Number (CRN) down. Do this for each course you need.
Step 5:
Once you have written down your CRNs, you are ready to register for the courses you selected.
Register for Courses
Step 1:
Login to your MyCCP account, select Register for Courses under Enrollment Services.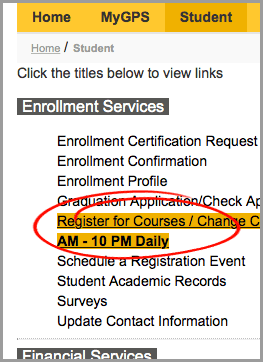 Step 2:
Enter the registration term that you want to register (fall, winter, spring or summer).
Step 3:
To add courses, select Add Classes Worksheet and enter the CRNs that you wrote down using Course Finder. Once all your CRNs are entered, select Submit Changes.
Step 4:
If you have successfully registered, the course status will show Registered for each course you  have selected under the Current Schedule tab.
** Error Messages can occur for a number of reasons, including not having the necessary prerequisites, holds on accounts and incomplete student data. If you receive an error message when registering, print the screen or write down the message and then contact the College via email at osrrhelp@ccp.edu  **
To print a copy of your registered courses, select Enrollment Profile.