Welcome to CCP! Following are resources to help you complete the enrollment process. It is very important that you follow all of the steps before you can register for classes. Once you have completed these steps, you will receive registration instructions from the Office of Academic Advising. If you have any questions about this process, please email and include your J number.
Step 1: Apply

online

.
Make sure to apply for Financial Aid at: 

www.fafsa.ed.gov

 (Use Community College of Philadelphia School Code 003249 when filing your FAFSA).

Contact the Financial Aid office ( ) for any questions about FAFSA.
Step 2: Check your personal email for a communication from .
You will receive instructions about your College account, including a College email account. After you login to your College account, this is how you access your College email account: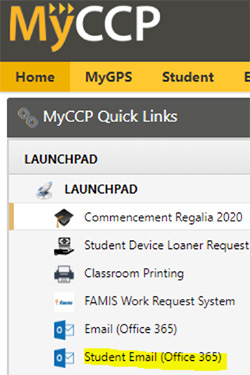 Step 3:
SATISFY Your English and Math Placement requirement.
Submit your high school transcripts and SAT/ACT scores, if taken, as they are used to determine if you qualify for a placement test waiver. If you do not qualify for a waiver or are unable to get transcripts and/or test scores, you will need to take the placement test.
Note: Placement is not determined by the Department of Academic Advising.
Step 4: Confirm your acceptance.
After you satisfy placement, you will receive an email from Community College of Philadelphia's Admissions Office. This email will be sent to the email address you gave on your admissions application. Once received, the next step is to log in to your Recruit application account and confirm your admission. Watch these video instructions if you need help.
Step 5: Login to your MyCCP account, click the New Student Online Orientation Portal and review each module.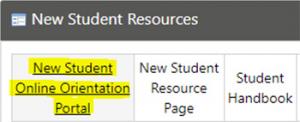 Step 6: Once you complete the modules, you must sign up for a New Student Group Registration event.
Your must attend an event to be eligible to register for classes and receive an academic plan for your first semester.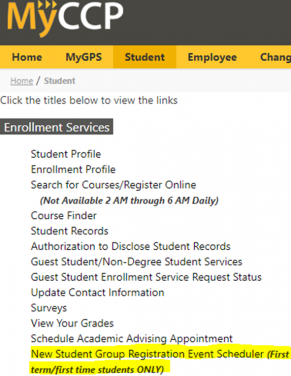 Step 7: Pay for your classes.
Once you are registered for your courses, it is very important that you have payment for your classes to avoid being dropped. Please check your bill online and follow these steps to review your Financial Aid Award.
Step 8: Learn more about Canvas.
Canvas is the College's online learning management system. The assignments and syllabi for your courses will be listed in Canvas. For information about the books required for your courses, check your syllabus. We have Roary's OnLion Learning Space to help you get adjusted with taking courses online as a first-time college student. Most courses will not appear in your Canvas page until the first day of the semester.