How to Make an Advising Appointment
Step 1: Find your Advisor
Note: Appointments are posted one week at a time.  Appointments for the upcoming week will open each Thursday. Scheduling with an advisor not assigned to your program will result in a cancellation
Program
Advisor(s)
Accounting
Cameo, Stephanie, Kristen, Khalica
Architecture
Sherice, Kathryn
Art & Design
Aaron, Sherice, Kathryn
Applied Engineering Technology
Sherice, Kathryn
American Sign Language/English Interpreting
Sherice, Kathryn
Automotive Tech
Stephanie, Kristen
Behavioral Health/Human Services
Brenda, Cameo, Maddie, Khalica, Raven
Black Studies
Sherice, Kathryn, Raven
Biology
Aaron, Sherice, Kathryn, Raven
Biological Science
Sherice, Kathryn
Building Science
Sherice, Kathryn
Business (General/Administration)
Brenda, Cameo, Stephanie, Kristen, Khalica, Raven
Business Leadership
Cameo, Stephanie, Kristen, Khalica
Chemistry
Aaron, Sherice, Kathryn

Computer Information System

Stephanie, Kristen
Communications Studies
Sherice, Kathryn, Raven
Computer Science
Stephanie, Kristen
Construction Management
Sherice, Kathryn
Criminal Justice
Cameo, Maddie, Khalica
Culinary Arts
Cameo, Stephanie, Kristen, Khalica
Culture, Science & Technology
Erika, Tomi, Kim
Cybersecurity
Stephanie, Kristen
Dental Hygiene
Erika, Tomi, Kim
Diagnostic Medical Imaging
Erika, Tomi, Kim
Digital Forensics
Stephanie, Kristen
Digital Video Production
Sherice, Kathryn
Education - Early Child
Aaron, Cameo, Maddie, Khalica
Education - Middle and Secondary Level
Maddie 
Engineering Science
Sherice, Kathryn
English
Sherice, Kathryn
Facilities Management
Sherice, Kathryn
Fashion Merchandising & Marketing
Cameo, Stephanie, Kristen, Khalica
Fire Science
Stephanie, Kristen
Health Care Studies
Brenda, Cameo, Erika, Tomi, Kim, Khalica, Raven, Aaron
Health Services Management
Erika, Tomi, Kim
International Studies
Sherice, Kathryn
Interior Design
Sherice, Kathryn
Liberal Arts
Aaron, Brenda, Sherice, Kathryn, Raven
Liberal Arts - Honors
Sherice, Kathryn
Liberal Arts - Social/Behavioral
Aaron, Sherice, Kathryn, Raven
Mass Media
Sherice, Kathryn, Raven
Mathematics
Sherice, Kathryn
Medical Assistant PC

Erika,Tomi, Kim

Medical Insurance Billing PC
Erika, Tomi, Kim
Medical Lab Tech
Erika, Tomi, Kim
Music Performance 
Aaron, Sherice, Kathryn
Network Technology Management
Stephanie, Kristen
Nursing
Erika, Tomi, Kim
Ophthalmic Technician PC
Erika, Tomi, Kim
Paralegal Studies
Brenda, Cameo, Maddie, Khalica
Patient Service Rep PC
Erika, Tomi, Kim
Photographic Imaging
Sherice, Kathryn
Psychology
Aaron, Brenda, Maddie 
Public Health
Erika, Tomi, Kim
Religious Studies
Sherice, Kathryn
Respiratory Care Technology
Erika, Tomi, Kim
Sound Recording and Music Tech
Aaron, Sherice, Kathryn
Technical Studies
Stephanie, Kristen
Theater
Sherice, Kathryn
Tourism and Hospitality Management
Cameo, Stephanie, Kristen, Khalica
---
Advisors will be assisting students in-person by appointment only and virtually by Zoom, phone, and email.
---
Step 2: Log into Starfish
Log into your MyCCP account and click the Starfish Connect link located in the Launchpad on the left side of the screen.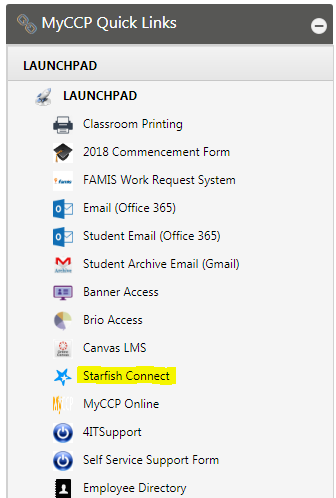 Step 3: My Success Network screen.

The Full-Time Advisors service will be the first service listed. Full-time advisors are program specialists. Click on Full-Time Advisors to schedule an appointment.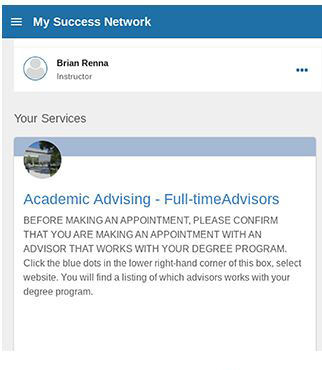 Step 4: Locate Your Advisor
Scroll through the list of full-time advisors until you find your advisor. Click on the 3 blue dots next to an advisors name, and then click on SCHEDULE.

Step 5: Let Us Know What You Need
Click on the arrow on the far right hand side of the screen. Once clicking on the arrow, the reasons for appointments will be displayed. You will need to select a reason and then click CONTINUE.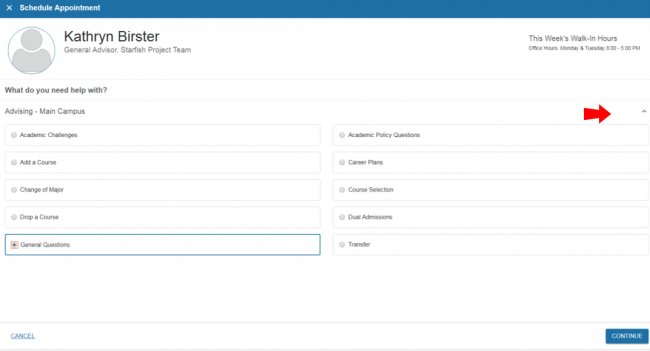 Step 6: Sign Up for an Appointment Time
A calendar will appear on the right hand side of the screen, select a range of dates that work best you. Next, select a time (click on SHOW MORE TIMES to get additional appointment times). Then click CONTINUE.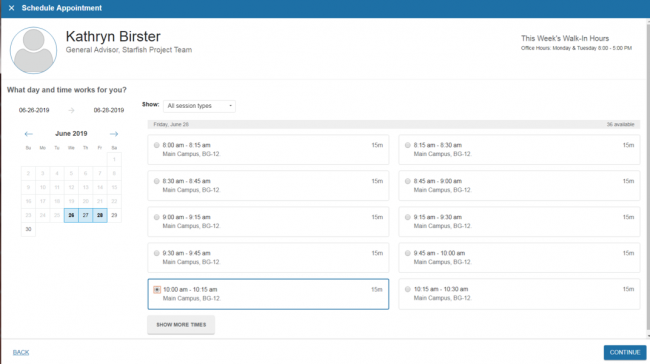 Step 7: Confirm
Click the CONFIRM button.