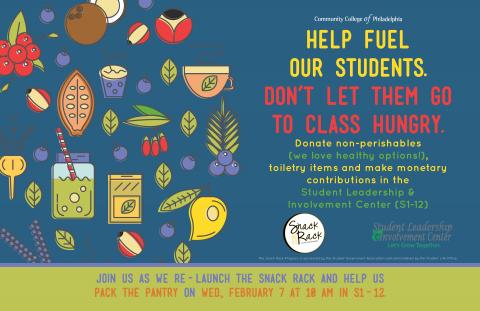 Please join the Student Government Association (SGA) and the Student Leadership and Involvement Center on Wednesday, Feb. 7 at 10 a.m. the NEW LOCATION FOR THE SNACK RACK FOOD PANTRY, in the Student Leadership and Involvement Center, Room S1-12E. We are calling out to the College family to pack the food pantry so no student goes to class or home hungry. We can do it!

Monetary donations are also appreciated. All money is used to purchase items to stock the pantry.

Snacks:
        Dried fruits, raisins, nuts in small packages
        Fruit snacks, pop-tarts, fruit cups (apple sauce or puddings)
        Crackers, (small packs of cheese or peanut butter), granola bars, pretzels
        Bags of assorted chips, pretzels, cheese balls, popcorn, etc.

Microwaveable, Ready to Eat Food:
        Individually packaged dinners, meat or vegetarian individual meal servings
        Macaroni cheese mixes, soups, oatmeal packets
        Instant Potatoes

Beverages:
        Juice boxes individually wrapped
        Bottled water, canned beverages, juices

Hot Drinks:
        Instant coffee, teabags, sugar, creamer hot chocolate individual packets

Personal Hygiene Products/Toiletries, including:
        Toothpaste, toothbrushes, floss
        Shampoo (those from hotels are perfect)
        Sanitary products
        Soaps, deodorants

Paper Goods, including:
        Plates, cups, napkins, spoons and folks
        Paper towels, tissues
        Toilet tissues

Baggies, Paper, Plastic Shopping Bags and Can Openers

Thank you in advance for your generosity and kindness.