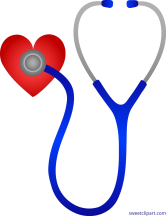 The American Association of Nurses is celebrating the nation's 4 million plus nurses from May 1- May 31st. 
This year's theme is "You Make a Difference." 
According to its website, there are four weekly focus areas being observed this month. They are Self-Care, Recognition, Professional Development, and Community Engagement. 
The website includes weekly activities created for each theme. 
Links are provided for a free Nurses Month toolkit, and nursing merchandise, in addition to the many resources available on the website. 
Image from SweetClipArt