College Name
Community College of Philadelphia, or the College, should be used when speaking about the institution.
Please do not use CCP.
Rotis Semi Sans Serif should be used for the College's name.
Logo
The long and short version of the College logo allows us to use the one that works best with each application, based on size and shape.
Please note that the website logo should not be cut and pasted for use on any printed piece or giveaway. Contact us at ext. 8043 if you need a copy of the College's logo.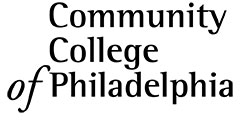 Incorrect Logo Usage
The logo is a graphic file of the College's name and should be used on all materials sent within the College and to the public.The only acceptable print file format for the logo is a scalable high resolution EPS (Encapsulated PostScript) file.

The reason we use an EPS file for the College's logo is that it can be resized without degrading the quality of the image.The logo should never be taken from a Web page for use on a print document. The resolution will not be the quality required for a printed document. 
The logo may not be distorted or combined with other elements. 
The image may only be printed with black ink on white paper, white on a black background or PMS 123 yellow on a black background. There are no exceptions.

The Division of Marketing and Government Relations must approve all uses of the logo.
Request permission to access the logo by sending an e-mail to emarkman@ccp.edu. Please provide a detailed explanation of your intended use of the College name. If permission is granted, you will be sent a file of the logo, as well as instructions on how to download the file, insert the image and adjust the size of the logo.